The Battle of the Books continues…
Two novels in my Midnight Meetings series are launching in these final months of 2017: The Lord Meets His Lady (book 3) and Meet a Rogue at Midnight (book 4, a novella). Part of the fun has been comparing hallmark scenes in romance and seeing which book fared better.
In the spirit of firsts, I'm presenting the first "funny moment" between the hero and heroine in The Lord Meets His Lady and Meet a Rogue at Midnight. The game is the same as the last time. Read the entries and weigh in with your vote in the comment section with which one you liked and why, because humor is just as individual as a kiss.
The Lord Meets His Lady by Gina Conkle
(Midnight Meetings series, book 3)
The Set-Up: Genevieve Turner is a woman of ill-repute turning over a new leaf as respectable housekeeper in the north. She suspects Lord Marcus bamboozled her into working for him because he wants a racy Master-Servant relationship. Genevieve will have none of that. It's her first morning in service, and she's laying down the law.
His new housekeeper roved about his chamber, collecting discarded clothes. "You need a bath, milord. You smell like horse. I've already poured one for you."
He grinned at her bluntness. Master-servant decorum didn't matter here. He'd mentioned last night he couldn't remember the last decent soak he'd had. A bath was perfect even if he'd need another one by the end of day.
He checked his chamber. "Where is my bath?"
"In the scullery." She picked balled up stockings off the floor.
"That's in the kitchen."
"Sculleries usually are." Miss Turner toed the ash pail closer to the fireplace. "Another requirement of mine: all bathing will be done in the scullery. I don't haul wood or water upstairs." She gave his night table a nod. The bottom drawer held the chamber pot. "And I don't clean chamber pots."
"But you're the housekeeper," he sputtered.
Her eyes sparked with mischief over an armful of laundry. "If you wanted a proper housekeeper, milord, you should've hired one."
He was about to ask what kind of arrangement she'd made with Samuel, but someone banged the front door.
"That must be the Dutton sisters." Miss Turner sashayed to his doorway, her voice light. "I poured your bath some time ago. If you want hot water, you'd better hurry."
"What?" His feet hit the cold floor.
Her breezy alto carried from the hallway. "Something to keep in mind, milord. Early risers get hot water."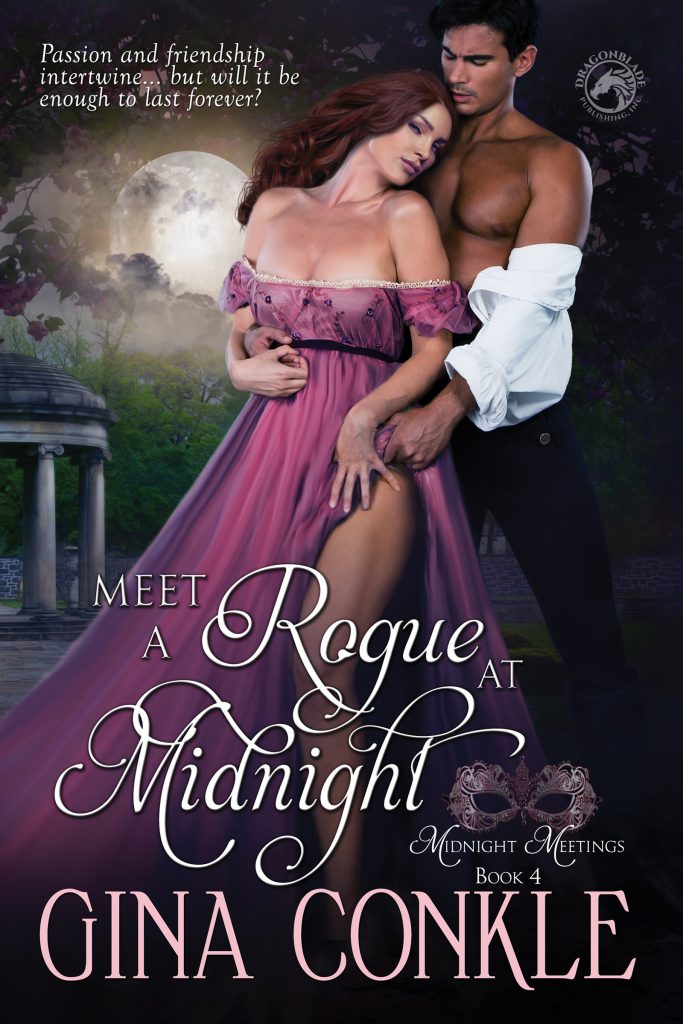 Meet a Rogue at Midnight by Gina Conkle
(Midnight Meetings series, book 4)
The Set-Up: Jonas returned home on Christmas Eve after ten years gone. He wants to settle things with his grandfather before leaving England for good. But, he had a surprise…an unusual Christmas Eve encounter with childhood friend, Livvy Halsey. In this scene he's off to find out what does she do in her tower?
He charged up the meadow's rise, his lungs bursting with rare good feeling since returning home. Livvy leaned outside the tower window, her copper braid swaying as she huffed in her struggle with the rope. A hulking wooden chair swung merrily at the end.
            Cupping his mouth, he called out, "Need some help?"
            Livvy's head popped up. "Jonas? Is that you?"
            He jogged to clear the ground between them, cold air biting his cheeks. Red-nosed and determined, she wrestled with rope and furniture.
He grabbed the chair and looked up. "Have a care, or you're going to fall."
A pair of lovely breasts jostled against her bodice. "I've done this many times."
"Of course you have. Doesn't every Englishwoman hang out windows and haul furniture up by rope?"
            She stifled a giggle. "Don't be impertinent. You can see I'm in the middle of something."
Tufts of snow landed on his face. He made an effort to speak to her eyes, not her cleavage. "What are you doing in your tower? Spinning chairs into gold?"
            "In a manner of speaking, yes, I am." She grinned at him. "You're in high spirits."
"It is Christmas Day."
"So it is." She focused on the chair and adjusted her grip on the rope. "Well, don't let me keep you from your celebrations."
She was giving him the brush-off? 

Now it's your turn to tell me which "Funny moment" worked for you in the comments below. The saucy housekeeper putting his lordship in his place? Or the subtle tease between two grown-up childhood friends?
Amazon  –   B&N   –   Kobo   –   iBooks   –   GooglePlay