Her Viking Warrior – Chapter One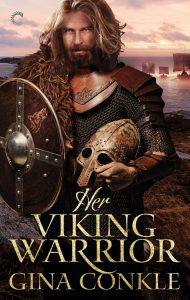 Chapter One
AD 930
Bjorn stood over a rain barrel, washing dirt and blood off hot skin. Water rippled his reflection, a hard Northman who chewed iron and breathed battle. Victory was his today, a truth that never unsettled him. The news he carried did. Four of the Breton Queen's men had died with honor by his hand. One warrior had lain in the grass, gasping sweet words. Two spies lived in Rouen. Both women.
He splashed his face. He'd not hunt them. He refused to—something he'd have to tell his jarl.
Light and laughter burst from the feast hall's open shutters. If trouble lurked, he couldn't see it. The rest of Rouen was peaceful as a sleeping virgin. Doors shut tight. Torches flickering at crossroads. Ships anchored in the Seine River like docile beasts. Even the Christian's stone abbey was sealed for the night, an innocent among the unholy.
Finger-combing wet hair, he waded into Longsword's hall. Cheerful thralls dashed by. Farmers and fighters bumped his shoulders, their conversations bouncing off the rafters. Mead, ale, Frankish wine flowed freely in honor of Mabon season, the pagan harvest, a time to give thanks, a time to end unfinished business. Deep in the crowd, his feet stalled. Kohl-rimmed eyes a shade of the Aegean Sea fixed on him. A lady in white across the longhouse, a newcomer. Chin tipping high, she studied him in the manner of a merchant considering new wares.  
His pulse kicked up, and he stared back, masculine instinct meeting feminine confidence. She was a powerful Viking woman. Freyja in the flesh. Her smooth jaw spoke of youth, her angled cheeks of experience. She was knowing and proud with a small straight nose. Life had fashioned her close to his age of thirty, a woman who'd lived well and taken her reward. Wide gold earrings gleamed against her neck. She sipped from a silver-trimmed horn, listening to the jarl's half-brother, Ademar. Bjorn grinned. More like she tolerated him by her bored nods.
Beguiling lips curved the longer she eyed Bjorn, the smile painting her softly. Basking in the lady's attention was akin to falling into cool seas. Deep. Refreshing. Teasing his mind with—
"Are you going to stand there all night?" Thorvald thumped the table, rattling wooden plates. "Come. Eat."
Typical Thorvald. Filling his belly always came first. "I have news for the jarl." He glanced at the head table and stiffened. The woman's head bent intimately with Longsword's.
"It'll have to wait." Thorvald waggled bushy brows. "He's busy."
"Who is she?" Bjorn slid onto the bench, putting his back to her. Jewel-encrusted earrings should've been his first clue the lady in white wasn't for him. Her place of honor between Will Longsword and his bastard half-brother was another. The jarl ate two steps above the earthen floor for a reason. He'd be wise to forget her.
"Don't know." Thorfinn, twin to Thorvald, waved over a thrall. "We were discussing bigger matters than women."
"Such as?"
"Land." Erik jabbed his knife into a heaping tray of meat.
Gunnar wiped his blade on his arm brace. "He means we were discussing which one of us will be the next landsman."
Bjorn tore off a chunk of bread and slathered it with butter. The Forgotten Sons, his brothers in arms, hungered for land. It was a sickness, consuming their conversation when they trained, when they ate, and probably filled their dreams when they slept. Not his. He was a simple warrior. Roaming from border to border, serving caliphs, viziers, and kings was their old way. But this was changing. They were men of Rouen now.
Only one of them would get the next holding.
The hall's revelry showered him, a good distraction after blood-pumping combat. Battle's fire ebbed from his body, taking with it the need for constant vigilance. A warrior on patrol in the southern forest had to be ready. An attack could come from the trees, an arrow flying through the air. The Breton Queen was a vicious wasp protecting her nest. He couldn't fault her ferocity, but her methods were dirty, plying poor tribes with lies, stealing their sons—and now their daughters—to fight her battles.
Thorvald was right. This was not the time to unload such weighty news on Longsword.
The thrall, Gyda, a favorite of the Sons, approached the table. Her smile was bright as she filled his cup. "You've returned early from your watch."
"To sample your mead before this lot drinks it all." The bread forgotten, he guzzled spiced honey, its sharp-sweetness drenching his mouth.
He checked Erik, his partner on the day's ride. A slight shake of Erik's head told him, I didn't say a word to our brothers about the spies. Loyalty to Longsword first—something else to get used to.
Thorvald gnawed a hunk of meat, talking between bites. "Bjorn should be the next one to get land."
          "Why?" Gunnar's arms spread wide. "Because he is second-in-command?"
          Bjorn frowned. The Whelp. Soapstone lamps shined on Gunnar's flaxen hair cropped below his nape. Born with a face women swooned over, he was happiest with a bow and arrow, and with the Forgotten Sons. They'd given the jarl their var, their oath, midsummer. Bjorn would forgive Gunnar's subtle disrespect. This staying in one place was a shift to their old way of life.
          "The gods do not go by rank." Thorvald pointed a pork rib at Gunnar. "Longsword might, not the gods."
          "It's true," Thorfinn said. "The gods always reward the fiercest, most cunning warriors."
          "Then that would be all the Sons." Bjorn held out his empty cup for Gyda. "Now, can we be done with this talk?"
"No." Gunnar scooped buttered turnips from a platter onto his plate. "Because if what you say is true, why does Rurik sit at Longsword's table, and we do not?"
Five pairs of wolfish eyes took in Rurik, his mouth curving in a wicked smile as he listened to his bride whisper in his ear. He was the Forgotten Sons' leader, yet Rurik profited the most from the decision to stay in Rouen. A beautiful woman. Wealth. A holding big enough it took two days to ride from end to end. Years the men had shared their plunder equally. Not anymore.
A carving of Yggsdrasil sprawled floor to ceiling, the mythical tree a mighty crown on the wall behind the jarl's table. Did the gods believe Rurik the most deserving? A wide silver band wrapped high around his upper arm, announcing him the third highest man in Rouen. As a boy, he'd led the Sons when they were troublemakers in Birka. Took blows for them when shiftless men attacked. Taught each man sitting with Bjorn how to fight. Skalds already lauded Rurik, the hard-scrabble Viking who rose from nothing. He had decided the Forgotten Sons could be more than roving Vikings. They could have homes of their own, be wealthy and landed. It was a gamble he took and won, beginning with himself.
Bjorn swallowed the last of his mead, unable to muster even a drop of envy. Rurik earned his place. He would find his. As long as the Sons stayed together, naught else mattered.
"Do you really care that Rurik sups at the jarl's table?" Gyda asked. "All of you feast in Longsword's hall. Is that not enough?" The men turned on their seats. Petite of frame, she reached forward and splashed golden mead into Erik's cup. "Why not turn your minds to better things?"
"What better things?" Erik's dark eyes flickered at the edge of malice, a common state for the warrior.
"Love for one. Truth for another."
Erik grunted his disdain. The magic of love was lost on the black-haired Viking. The surly warrior dove into his meal as Gunnar angled himself toward Gyda. "Perhaps you can settle a dispute for us."
"I will do my best."  
"Do the gods honor a man's rank?"
Thorvald handed over his drinking horn. "Or do they honor the fiercest, most cunning warriors?"
Brown wisps brushed the thrall's rosy cheeks. She poured the contents of her pitcher, a light sheen of sweat on her forehead. Honey smeared her white apron, proof of Gyda's mead-making. She'd labored since sunrise to make the feast a success, and she would labor long past midnight to see its end. Quiet, without complaint.
"Depends on the reward." She passed back Thorvald's battered horn and looked at the men with eyes the shade of newly plowed earth. "You all know as well as I do the gods demand a cost equal to their reward. It is our way."
The hall's doors blew open and gusts kicked skirt hems everywhere. Gudrun, a Norse witch entered, her frosty stare hovering on the Sons before finding her sister, Ginna, talking to a young farmer. Bjorn shivered at something tracing his spine. Had to be excess water trickling from his hair. Nose in his cup, he hoped that's what touched his back. Wherever Gudrun went death wasn't far behind.
"We're arguing about the usual rewards," Erik said gruffly. "Fame. Wealth. Land."
"You must think bigger than that," Gyda chided.
Thorvald swiped his mouth with the back of his hand. "Sounds big enough for me."
"Then that is all you will have. In small measure." Her pink lips firmed. "Which is no doubt the same size as other parts of you."
The smash-faced warrior scowled when hoots of laughter followed her jibe. A thrall since birth, Gyda spoke her mind freely under Longsword's rule, but she was a woman who would bend, a reed in the wind. Her pliant nature was her strength, so was her tolerance with men.
"Then it is settled," Bjorn said. "We can put this talk to rest."
Ignoring him, she tipped her pointy chin at two posts holding up the roof. "Look at those carvings. What do you see?"
Each Son swiveled around for a view of pillars of such size no man could fully wrap his arms around them. A different Norse god had been chiseled on four of the nine ash tree posts, the work of a traveling carver.
Gentle Thorfinn pinched his silver beard bands like a Greek philosopher. "I see Odin who gave an eye for wisdom, and Tyr, a god of justice who lost his hand to save Asgard from the wolf, Fenrir."
"Exactly. Wisdom and justice. Those are what Odin and Tyr sought first. Fame and wealth followed." Resting the earthen vessel on her hip, she scanned their faces. "Is it not obvious? You must first ask the gods for your purpose. Then you must seek it. No matter the sacrifice."
Words overlapped from the men arguing about sacrifice and purpose, greatness and riches. Gyda was wise beyond her years, pretty too. An easy companion, she joined the fray and laughed with them, fishing a good-natured smile out of Thorvald. But, these were the gods she spoke of while the Sons were mere men. Bjorn took a bite of peppered pork and studied the carving of Tyr and Fenrir, their ferocious battle curving around oiled wood polished to a shine. Lose a hand to save others? He was Viking, yet he didn't see the need for that kind of sacrifice. Fighting to win? That he understood.
Gyda set her pitcher in front of Bjorn and murmured above his ear, "I'll leave this here. Something tells me all this talk will make your men very thirsty." She winked at him and sauntered off, blue skirts swaying as she met a cluster of festive matrons, their eyes bright from Frankish wine.
Women. Men seek whatever they give because they needed them, yearned for them. Homes and halls turned on their gentle words. Men ruled kingdoms, telling stories in blood, while women were life-bringers. They shaped what was left, some long-suffering as water changing stone, others forceful as a rushing torrent.
A line of giggling thralls entered from the eldus, the heated room for cooking outside the longhouse. Each woman bore platters of roasted turnips, steaming bread, and bowls of fruit. The matselja, Astrid, keeper of the jarl's longhouse, quickly worked her way down one wall, closing shutters against harvest's chill.
Skin on his arms pebbled from air turning its face to winter. Harvest was nearly done. In times past, the Sons would have ridden hard by Mabon for the sunny Balkans with its warm waters and dark-haired women.
Bjorn scooped blackberries from a wooden bowl. "We're getting ahead of ourselves with all this talk of sacrifice and purpose. Think instead of the tasks before us."
"What tasks?" Gunnar popped a berry in his mouth.
"Securing the Seine at Rurik's holding for one, getting ready for winter is another."
Nods of assent were slow. Thorvald wiped greasy fingers across the wolf head carved onto his leather vest. "Makes sense."
Uncertainty clouded Gunnar's brow. "It doesn't to me. What if Gyda is right? What if we must first find our purpose?" His arms spread with appeal. "Why else would the gods bring us here to stay?"
Bjorn's molars ground the berries, their late season tartness bursting across his tongue. A step above housekarls, the Forgotten Sons were common warriors separated by uncommon gifts in battle, but they were simple fighters. Nothing more. He'd not let one woman's opinion invade their minds. Their zeal for land was distracting enough.
"Listen to me. Our bond as brothers is what matters. Not purpose, nor land. Gyda is tender-hearted. Full of lofty ideas, but she is a thrall untried in life." He set an elbow on the table and looked pointedly at each man. "Never let a woman mess with your mind."
Satisfied with that wisdom, he tore off more bread and almost missed their stares drifting behind him. His back prickled when a silken voice touched his ears.
"I'm sorry to hear that. I've travelled a long way to present you with a lofty idea."
The woman in white stepped into his vision, lithe of form and fluid as sunshine on water. Her mouth snared him, the full lower lip indented in the middle as if the gods had pressed a fingertip there when she was born. Blue and green embroidery dressed a bodice covering smallish breasts. He wasn't complaining. Breasts of any size fascinated him.
"A lofty idea?" Doubt framed his words.
Her smile was sultry and confident. "Yes. One that will make you a powerful man."
For a split second he gave into enthrallment. Something in his chest twisted at being the center of her attention. The lady's bearing and low voice flooded him with pleasure until reason over-ruled. Rich offers from fair-faced women didn't happen to men like him.  
"A powerful man?" he drawled. "Lady, you're at the wrong end of the hall for that."
Gunnar's eyes flashed a warning. He glared back, but the Whelp was right. He should be careful. This woman had a seat at the jarl's table, which meant she was an honored guest and should be treated with the best manners. The lady took in tables of warriors around them, meaty, scarred-up, axe-wielding brutes, the toughest of Longsword's housekarls. Those men ogled her hungrily. She met their stares, measure for measure from one man to another until her gaze settled on Bjorn.
"No. I am at the right end of the hall." Sea-green eyes probed him in a way that warmed his skin. "It is you I want."
"Me," he said, feeling a foolish grin spread. Across the table, Thorvald coughed on his bite. Gunnar thumped his brother's back, but the lady held court. She was comfortable with her power, chin high, shoulders squared. Nothing docile about this woman.
"What if my offer makes you equal to Longsword?" she asked.
His jaw went slack and Thorfinn's knife froze midway to his mouth, butter dripping off a spiked turnip. Erik's eyes turned into dark slits, and Thorvald gave the woman deeper scrutiny. There was something familiar about the lady in white.
His skin tingled the more he absorbed her features. "Do I know you?"
Her eyes rounded. "You don't remember me?"
"No. Should I?"  
She laughed, the musical sound sending his unwelcome childhood tumbling forward. Thudding drummed in his ears. A grey haze encroached his vision. All pretense of eating at the table stopped, each man boldly curious. The jarl's guest was regal, pleats perfect, her stance unashamed. Gunnar gave her a slow once-over when she smoothed the back of her skirts and slid onto the bench facing Bjorn. More striking than beautiful, she was the kind of woman a man could stare at in fascination and never get bored. Self-assured women had that advantage.
"I recognized you the moment you walked into the hall." Her voice was a smoky purr. "You've cut your hair and it is a darker blond than I remember, but your gait hasn't changed."
"My gait?"
"You walk like a hunter. Balanced. Sure of yourself, ready for anything. That's what my father used to say about you." A little shrug and, "Seeing you again, I'd say he's right."
Blood pumped faster in his veins. Battle's metallic flavor filled his mouth. "Ilsa."
Her nod was slow and intimate. "We were friends once in Vellefold."
He dropped his bread onto his plate and nudged it aside. "Yes. A long time ago."   
Ilsa. Daughter of Odell, master of North Sea hunts and a great ivory merchant. As a girl, she'd had a talent for wringing fun out of rainy days and spinning sunshine when there was none, but she was part of a life he'd left behind. A grown woman faced him now armored with natural-born poise. The mention of Vellefold was as good as a knife to his back, and by the angle of her chin, she knew it.
Icy waves washed his skin. The table's wood grain blurred, unfurling a Hel-black chasm before his eyes. It was the memory of his father's black mantle whipping sideways on a stormy beach—the day his father left him.
His knee bounced under the table. He grabbed his thigh and gave a brutal squeeze. He needed to get out of his head, or he'd lose his mind to that Hel-black chasm again.
Ilsa's attention skimmed each man. "I am here for an exclusive trade with Longsword. And Bjorn."
The Sons exchanged sharp glances. Thorfinn dropped his knife on his plate. "A trade with Bjorn is trade with all of us, lady."
"I have heard that about the Forgotten Sons." Head tilting gracefully, Ilsa's gaze reached across the table. "But what I have to say is for Bjorn alone."
Such a tender-voiced message, yet each word cut to the bone. The raucous hall jarred his ears, despite it he was grateful. The men were making his business, their business. Thorfinn's shoulder was a steady presence at his side. A lifeline. Erik's slight nod gave a message, Your brothers are with you. They all knew the day his father had abandoned him in Birka. It was the same day Rurik had found Bjorn, took him home, and convinced his mother who'd struggled to feed four mouths to take in one more. She did. Oddny's kindness had saved Bjorn's life.
"I have news from home," Ilsa said. "From your family."
"What home?" Ire sliced Bjorn's words. "Rouen is my home, and these men are my family."
His bite missed its mark. Ilsa glowed with gentleness melting wrath. Her features softened, but he couldn't say if the lady across the table displayed womanly wiles meant to bend a man to her will, or if she reflected genuine childhood friendship. Years past, Ilsa had taught him the old runes and the new, the sounds for each symbol, and how they made words when put together. Because of her steady instruction, he was the only Forgotten Son who could read. Young Ilsa had been an innocent in a treacherous time; this woman facing him was canny. He wasn't sure he could trust her.
"Share some mead with me," she coaxed. "Listen to my proposition."
"This news is now a proposition?"
A fixed smile was her answer. Ilsa had ogre-sized balls to seek him on behalf of Vellefold. Sitting across from her, his senses stirred to smoke churning in Longsword's hall, yet he'd swear he smelled the secret grove she escaped to as a girl. The pines and birches, the sticky resin on her hands and cheeks after she'd carved runes on trees. Her favorite grove had been full of those marks.
The woman with him now had travelled a far distance to speak to him. For her courage alone, she deserved to be heard.
He poured mead into an empty cup and pushed it across the table. "One drink. That's all the time you have to bend my ear."
Chafed fingers full of cuts wrapped around the wooden cup.  Her fingernails were clean but roughly shorn, a contrast to ornately embroidered sleeves typical of wealthy, high-born women. Ilsa had strived for something and her hands paid the price. Beside him spoons and knives scraped plates and heads bent low, the Sons tucking into their food, trying to go unnoticed.
A feminine brow quirked. "I'll take my drink with you alone."
Women of privilege. They believed they should get their way, but to call Ilsa haughty would be unfair. She was bred on climbing obstacles. Determination was in her blood. In all the kingdoms he'd seen, he'd never met women quite like the ones born in Vellefold. Unshakable as the high mountains surrounding the settlement, they walked with an air of mystery. Did land form a woman? Vikings of the northwest lived where craggy peaks folded into narrow fjords. Vellefold was magical—rich, black soil tucked between crowning summits as if the gods had smoothed it for farming and pushed it to the sea for trade.
A place coveted by Vikings and foreigners alike, and Bjorn wanted nothing to do with it.
He eyed the men. "Give us the table."
Thorvald's chewing slowed. "We're supposed to leave?" He poked his spoon at Ilsa. "Because of her?"
Gunnar drained his cup and set it down with a thunk. "Come." The Whelp unfolded himself from the bench. "Let's give Bjorn what he wants." Grumbling men gathered plates and cups and removed themselves. Thorvald nabbed two more hunks of meat before scrambling to join the others in search of a place to eat.
Ilsa watched them go. "They are loyal to you."
"As I am to each of them."
Her pale green stare drifted back to him. She was peaceful, firelight playing on triangle-shaped gold dangling from her ears. Rich green stones embedded a Byzantine design, but no rings decorated work-raw fingers nor did metalwork encircle slender wrists. Her neck was free of adornment too.
Relaxing on her seat, Ilsa flipped both hands palms up to feed his wondering. Coin-sized blisters had recently torn open. "We rowed hard in heavy seas."  
He winced. Two spots seeped on her hands. "Why? To share a proposition for which I'm sure I'll refuse?"
"You haven't heard what I have to say."
Unfriendly laughter rattled his chest. "If it has to do with Vellefold, I already know my answer."
"You hate Vellefold that much?"
She was wide-eyed and open to him, her brightness too much. He had to avert his gaze. "Sure you want to spend your one drink hearing my answer?"
"You really mean to grant me one drink?" she asked, a wind-chapped hand reaching for Gyda's pitcher. "Very well. I will keep our cups full."
He remembered that about her—work the problem—that was the Ilsa of his childhood, a learned girl, indulged by her father with all manner of foreign tutors and foreign scrolls. Puzzles, riddles, the silliest of games appealed to her. Shy with others, she'd been gangly with the longest braid. This lady across the table was a force of nature. Fair of face and intelligent. A dangerous combination.
Ilsa poured their cups to the brim, gold sparkling against her neck where taut skin covered symmetrical bones like silk pulled tightly over a frame. Her chore done, she set down the pitcher with firm clunk.
"You know, you weren't my first choice, but I'm here because I gave an oath to find you."
Her smoky voice was…different. Testy. Perhaps tired.
He shifted on the bench. "Your choice for what?"
"To save Vellefold."
"You need saving?"
"I don't. Vellefold does. We were raided last spring. Twice."
 He whistled softly. Definitely testy. "Things have changed."
His father's iron rule must be weakening. No one had dared raid Jarl Egil's settlement. Ever.
"Now you understand why we need you."
Forearm planted on the table, he smiled coolly. "We is it? Then, you do need me."
She bristled at the distinction and sipped her drink. It was a small point to make. A bigger one was coming because Justice looked kindly on him today. Yes, he and Ilsa were friends once, but they were closer to enemies now. He could live with that. By the twist of her fair mouth, she could too.
Does she really think I'll run back to Vellefold? After all these years?
He swirled his mead, smoke and noise cloaking him. This plea was a gift from the gods—to be asked to save the people who spit him out as a boy. Finally, finally that boy would get his due. Because Ilsa would get her one drink, then he'd send her away with a firm no.
By her narrowed eyes, she was just as determined to win his yes. "You're big but not the biggest of warriors—"
"If size matters."
"—and your band of men is small and outnumbered for the fight ahead."
"Clearly you're not trying to gain my favor with flattery," he said dryly and took a long draught of mead.
"And something tells me you don't take orders well." Her tone was decidedly iron-pitched.
"Depends on who's giving the orders."
Her mouth twitched. "It would be me."
"You?" he scoffed. "The Ilsa I knew avoided conflict and weapons. Where did you learn to fight? From one of your scrolls?"
Lashes shuttered, she sipped from her cup.
He laughed, truly amused this time. "You did. Or you think you have."
"One can learn much from the past." Her jaw set, she wasn't giving an inch.
He rested both forearms on the table. Someone had gone soft in the head to let a plan for Vellefold's safety come to this. "No wonder you're asking for help. Some things can only be learned in the doing. Fighting is one of them." Sex is another.
Beautiful sea-green eyes speared him. The glint behind them was vibrant and wise. A thrum shook his core. He'd swear Ilsa sensed his last thought—and considered answering it. The connection was akin to water rippling through him. It made him open his mouth to nurse their conversation when a smart man would walk away.
"What things have you learned from your dusty scrolls?"
"There is a great deal of strategy."
"But nothing about how to fight."
Pretty lips flattened. "No."
Another swallow of mead and he acknowledged a seed of respect for the lady. She strove to use her brain for whatever fight was ahead. That was more than most. But, no matter how hard Ilsa tried, one truth would never bend: Vellefold's warriors followed the strongest in battle. It was the Viking way. None would obey someone untested in war. Strength, courage, honor and trickery lit a fire in a warrior's eyes, made him or her thirst to serve a great leader because great leaders took them on the path of wealth and fame.
"The women follow me without trouble," she murmured.
Who followed his father? The question lingered, but he refused to voice it. Asking meant caring about the answer. Fingers drumming the table, he'd at least make sure Ilsa grasped one or two points of war before they parted ways.
"You're skilled at what weapon? The sword? A Norse hammer? Fighting hand to hand?"
Her eyes narrowed. "I do well with a bow and arrow."
"A hunter's weapon. It works if you're fighting from a distance, but there's no dignity in it. A Viking wages war face to face. You know this."
Ilsa stiffened at him stating the obvious. Good. He was getting to her. Warrior leaders weren't born, they were made, tested in battle, rising to their place after tasting blood and dirt and doggedly coming back for more. To think she could simply put on a leader's mantle and fight would only get her and others killed.
He leaned in close enough to see the texture of her lips. "You can't be a leader and stand far from the fray. You're in it. Teeth to teeth with your enemy. Only one gets to walk away." His voice dropped to barely a whisper. "Sure you're ready for that?"
Ilsa didn't back down. "I need to learn how to fight. Many of us do. It's why I'm here."
Have Vellefold's people gone lazy? "It's crazed plan, and I already have plenty of reasons to say no. I won't go back, nor will I take orders from a woman."
"You have no problem fighting with them."
"Shoulder to shoulder, yes. But I've yet to meet a woman worthy of being a leader of men."
Certainty danced in her eyes. She took his words as a challenge. Willful woman.
"I think the sun has roasted your brain. Too much time in southern kingdoms has ruined you."
"My brain is fine," he said through a curt smile. "You can't accept that I don't easily give my var."
"Yet you and your men have a reputation for selling your vow of service to the highest bidder." Her words were as light as spring rain. She was proud and unrelenting with color high on sun-kissed cheeks.
"Now you think I can be bought."
Ilsa traced the rim of her cup. "Can someone…buy you?"
A thrill shot fast as a flaming arrow down his midsection. His clothes were tight and the hall too crowded, though they sat alone. On instinct, he scooted forward, his knees swinging open under the table. Why her question did things to him wouldn't be answered because another truth dawned: how long it had been since a woman last roused him in body and mind. By her faint smile, Ilsa knew her effect, and that was worrisome.
"If my vow of service is for Vellefold, then no," he said gruffly. "Gold and silver cannot sway me."
"What about a jarl's seat?"