The Lady Meets Her Match, book 2
Midnight Meetings series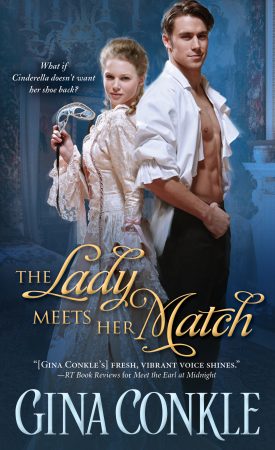 A self-made man, Cyrus Ryland navigates London with care until he meets a mysterious beauty at his masked ball. She vanishes at midnight, leaving behind a single shoe. Cyrus is sure he's been had. The hunt is on to find her…but that's only half the battle.
Shopkeeper Claire Mayhew finally has a chance at independence—until her landlord, Mr. Ryland, walks through her door. He's determined to prove she needs a man's guiding hand in her business…and she's just as determined to show him she doesn't.
Disturbing attraction and equally disturbing accidents begin to hound the stubborn pair. Soon Cyrus must decide how far he'll go to win Claire's heart because…
What if Cinderella doesn't want her shoe back?
"A mystery subplot adds an element of intrigue, and Conkle's eloquent writing makes every scene shine."
"Conkle's clever and enjoyable Cinderella tale offers a unique character...along with lively action and fun romantic chemistry."
Claire's heels struck the marble floor with determined snaps. She raced to the far end of the entry hall, her head turning from one set of double doors to another. The well-lit Ryland house wasted too many candles in her opinion: light underscored each door. She cocked her ear, catching the hum of Mr. Ryland's voice layered among others somewhere in the vicinity.
"Where is he?" She whipped around, her hood falling back. "Are you going to tell me, Belker, or do I have to open every door to find him?"
"Miss Mayhew," the butler's stern voice rose. "As someone once in service, you know very well this impudence of yours is poorly done."
Belker stared at her as though she'd lost her mind, his polished shoes rooted to the floor.
So he knew of her.
There'd been gossip from other servants who patronized the New Union Coffeehouse. Some admired her, but others viewed her as an upstart, a female leaving the secure world of servitude not for stabilizing matrimony but for an independent life in business. The butler's appeal to the common bond  upper household servants shared wouldn't work.
She shot off toward one set of double doors and flung them wide open to find a team of footmen setting a long table with the utmost care. Each man was a study in pristine, blue-and-white livery topped with blinding-white periwigs. A few of them patronized her coffee shop on their half days.
"Thomas, would you be so kind as to tell me where Mr. Ryland is?"
He blinked at her, straightening from the waist. "He's entertaining guests in the royal drawing room." His white-gloved hand pointed the direction. "Let me take you, miss."
"You will do no such thing Thomas." Belker spoke in her periphery. "See Miss Mayhew to the door before she causes further disruption."
But the butler's nervous glance at a certain pair of gilt-edged doors flanked by effusive ferns gave the secret away. Before the ever polite Thomas got any closer, she sped to those doors and yanked them wide open.
A beautiful assemblage filled
the well-appointed drawing room, sitting in clustered tableaus of color and perfection. One by one, their faces turned her way, all conversation fading. Her labored breaths made a conspicuous sound in the cavernous room.
She was an earthly rebel invading a gathering at Mount Olympus.
A dark haired, violet-eyed goddess held court in the middle, her plum skirts spread wide. The lady spied Claire, her eyes turning to feline slits, but the Marquis of Northampton, who sat beside her, gaped.
A small, older man spoke to two young men of university age. His eyes were cold and colorless under the bob wig framing a thin face. The two younger men he spoke with bore the stamp of Ryland lineage. One of them smiled at Claire, his mouth curling in the same arrogant way as Mr. Ryland's.
Apparently not all of Olympus resented her intrusion.
Lucinda Ryland held a dish of tea aloft, her mouth a perfect O. Miss Ryland briefly gawked at Claire, and then turned to look at the opposite end of the room. Claire followed the young woman's vision to the commanding form standing with another broad-shouldered young man by the windows.
Cyrus.
Heaven help her, she didn't need anyone to alert her to him. She'd find that man the way desperate sailors seek a lighthouse. Despite the storm, afternoon light haloed him like some sort of Greek god come down to trifle with mere mortals. With those infernal broad shoulders and glowing, slate-gray eyes, Cyrus Ryland dominated her senses, touching her most feminine places.
His nostrils flared. Was he scenting her? The notion was ridiculous, given their distance and the circumstances, but Claire settled a hand on her stomach, quashing the flutter.
He could very well have said aloud to the silent room: She belongs with me.
And his dangerous turned her legs, her resolve to jelly. She was woefully out of her depth, swimming in waters she had no business being in.
Mr. Ryland strode toward the open doors, confident as ever, greeting her like a tardy guest, not some rain-drenched, midtown proprietress with flour dusting her skirt.
"Miss Mayhew, a pleasure to see you." He came an inch  closer than courtesy dictated, blocking out the others behind him. "You will join us."
He spoke in an authoritative tone, his close-lipped smile as smooth as you please. Standing this close, she took her fill of his tantalizing, clean smell. Plain soap must've earlier lathered his freshly shaved jaw, where a new thumbprint-sized bruise marked him.
She pushed wet hair off her face. "I will not, unless you care to include your friends from Bow Street." Her trembling voice dropped lower. "I'm sure they'd like to know about your thievery."
Belker and a pair of footmen hovered outside the doorway. "I'm very sorry, sir—"
Mr. Ryland raised a halting hand to the butler, his eyes narrowing on her. "What are you talking about?"
She opened her mouth to respond, but the quick-thinking host clamped her elbow, steering her firmly from the doorway into the entry hall. Mr. Ryland looked to the butler and tipped his head toward the drawing room.
"Luncheon. Take care of it."
Those words were sufficient. The servants flew into action, which made Claire wonder: Did Ryland House receive distraught females on a regular basis?
There'd be no time to delve into that question. He guided her across the entry hall and down the royal-blue hallway, toward his familiar study. When they entered, she got a daytime eyeful of his study.
Few books lined the shelves of the plain blue-and-gray room. Worn-out folios, the spines cracked and losing color, lined shelves built into the wall. The room thankfully was well lit and warm, with enticing charcoal embers glowing from the hearth.
He led her straight to the familiar chintz-covered settee, but his gaze swept her from head to toe.
"You're drenched."
"A very astute observation since I traveled here in a storm."
His brows slammed together at her sarcasm, causing a small, vertical line above his nose, but he bent his powerful frame, pulling one side of the settee close to the grate. Mr. Ryland adjusted the heavy furniture as easily as one might move a small chair. Then he pointed to the seat.
"You'll want to sit here, closest to the heat."
She looked from the inviting spot back to him. Oh, no, the greater heat frothed between them.
"I shall stand, thank you."
"Don't be ridiculous." The lines around his mouth tightened. "And give me your cloak. We'll hang it here to dry."
She was about to tell Mr. Ryland the purpose of her unannounced visit when a chill snaked up her skirts, reminding her not to be a fool. With a rain-splattered cloak and her soaked hems plastered to her ankles,
practical wisdom won. The cloak came off.
"I'm not staying long." She stretched out her arm, keeping their proximity to a minimum.
Male lips curved, suppressing a smile at her staunch effort to maintain some distance. Mr. Ryland accepted the cloak, his warm, dry hands covering her icy fingers in the exchange.
His gray stare fixed on her. "Now, what's this thievery you're talking about?"
He hooked the cloak's hood on a stone carving sitting atop the mantle. The comfortable seat beckoned her to sit by the orange and amber coals. What needed saying could be done as much in comfort as discomfort. Why be miserable in the process?
Claire sidled over to the proffered accommodation, and waves of cozy warmth touched her frigid ankles, going bone deep. A sigh of satisfaction slipped out.
"I speak of my necklace. Stolen." She inched her puddle-soaked shoes closer to the hearth. "By you."
The Lady Meets Her Match by Gina Conkle