Kept by the Viking, book 1
Forgotten Sons series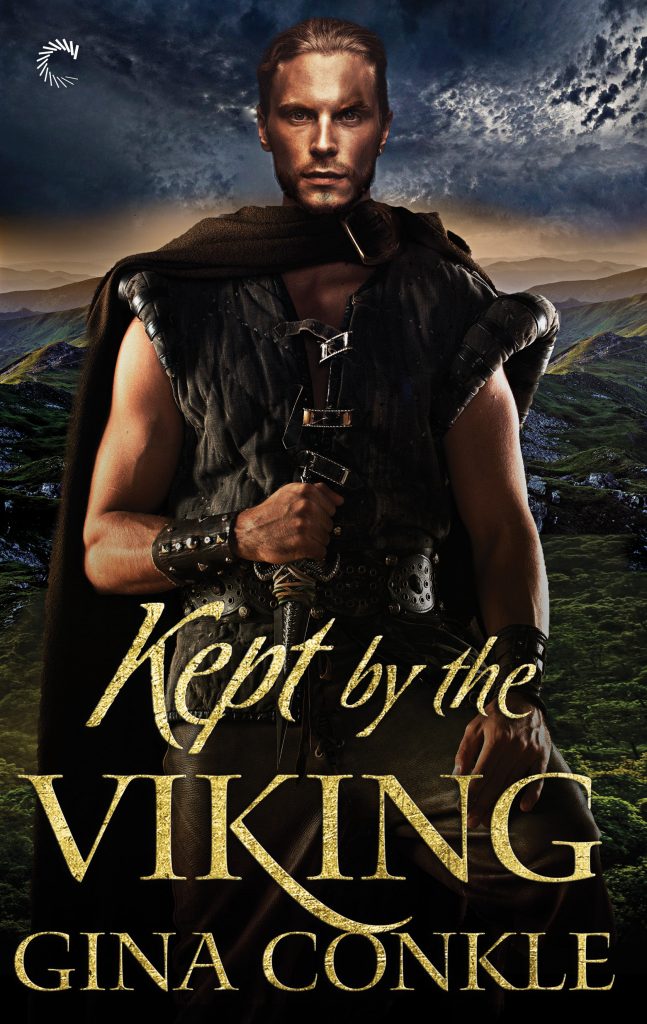 A formidable Viking leader, Rurik's loyalty is to the Forgotten Sons, and no woman will threaten what he's built from the ground up. But the Sons are a roving band of Vikings, and Rurik is growing restless. When Normandy's chieftain offers land, the proposal intrigues him. And the sultry Parisian thrall he who crawls into his bed with a warning intrigues him even more…
Safira is cunning and full of secrets. Rurik's men have no interest in securing her safe passage home, but, piqued with lust, Rurik views Safira's wiles as a captivating challenge—one he's determined to conquer, but, what started as lust quickly becomes a welcome partnership.
But their arrival in foreign lands marks a new chapter, one that demands a Viking wife. Impossible decisions must be made. Alliances are fraying, and past promises may not be enough to save him from having to betray those he's sworn loyalty to—including Safira.
Kept by the Viking
Holt Medallion Finalist - Historical Romance
2019
Chapter One
AD 930
A Saxon outpost on the northern border of Nor'man land
Smiling grimly at the darkness, Rurik tucked a bone-handled blade in his boot. Norns had spun his life with stingy threads, but his days of hardship were over. Rouen's overlord, Will Longsword, promised to make him a landsman, a plum prize for a low-born Viking.
If he got to Rouen by the mid-summer feast.
Door hinges whined in the quiet, and a shrouded figure crept through the building. Skin prickling with alertness, Rurik's hand hovered over the knife. Firelight limned the form slipping past loose-weave curtains into his bed box. A bent knee sank into fur. The bed creaked, and black cloak parted, revealing enticing curved pressed against a thrall's grey wool tunic.
A woman to ease his loins. She should've come last night.
"Didn't expect a companion this morning." He caressed her smooth-skinned arm. "I don't have time—"
She slapped his hand. "Keep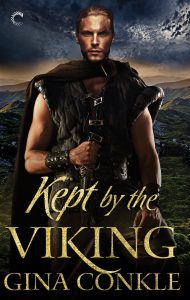 your hands to yourself, Viking. I am not here to be your, your…how do you say, comfort woman?"
A lilting accent melted over sharp Norse. It teased his ear, intriguing him the same as her knocking away his hand. Slaves, thralls, the lowest of laborers knew better than to strike a warrior.
He sat back, amused. "Frilla. That is a Viking comfort woman."
Her chin tipped proudly. "I am not a frilla. I bring you urgent news."
The folds of her cloak rippled. Did she hide a weapon?
Familiar, battle-ready tension heated his veins. His eyes narrowed on shadows hiding her face. "Who are you?"
She scooted closer. "That doesn't matter. I—"
He yanked the knife from his boot and sprang at her. It was quick work, wrestling the woman into the pelts. Whatever she'd meant to say was lost in shocked yelps. Her hood fell back. The bed box squeaked in the scuffle, and heavy furs jumbled around his morning visitor. Jamming his forearm high on her chest, he squinted at the woman, but couldn't make out her features in scant light.
"I'll ask. Who are you?"
Shorn fingernails scratched his arm brace. "Stop!"
The thrall scrabbled beneath him like a doused cat. He jerked his hips back, narrowly missing a knee to his ballocks. Blood thrumming, he swung his leg over thrashing limbs and pinned her with his thigh.
"I am Sothram's slave. He is your enemy," she gasped. "Not me."
He held the blade high. "Did he send you to attack me?"
"No! I detest the man. Put the knife away…if you want to know how the Saxon cheats you."
"The blade stays," he said, nose to nose with her. "And you will tell me Sothram's plans."
Eyes glimmered through tangled black hair. Anger stiffened her limbs. She would feed off it and stay vigilant. A man could never be too careful with the gentler sex. In his travels, he'd heard of fair-faced women plying a deathly trade by luring the hapless traveler into a private place. The end of that tale was always cruel. Thieves robbed the man and beat him unconscious or worse—killed him.
It had happened to Leif, one of the Forgotten Sons. His loss was a wound that wouldn't heal.
Glowering up at him, she jammed the heels of her hands against his shoulders. "I know you won't hurt an unarmed woman, Rurik of Birka. Your reputation says otherwise."
A slow smile formed. The she-cat had spirit, he'd give her that. She wriggled hard, the cradle of her body bumping him. The outbuilding was quiet save the squeaking bed and feet battering the pelts. One glance proved no one lurked beyond the coarse curtains.
Why not have a little fun before his long day's ride?
"Why do you keep fighting? You're not going to unseat me."
"Get off me," she huffed. "I have no weapons."
"How do I know that? I'll have to search you."
Overgrown brute." Teeth clenched, she dug her nails into his leather-covered shoulders.
Low laughter rocked his chest.  "You came to my bed. If you want me to listen, it will be as I say or not at all."
She stilled. "You will not…touch me?"
"I want information. Not sex."
A rooster crowed in the distance. Time passed thick and quiet, marked by the tension melting from her slender legs resting between his. He couldn't fully see the woman's eyes, but he could feel them, searching him, wondering. Yielding. He savored moments like these: the dip of a woman's loins beneath him, a naked knee touching his inner thigh, bed furs tussled and warm from her body, hair spread out for his tough. Sensual tenderness was a Freyja-blessed gift in his harsh life. He was quick to steal softness when he could.
The thrall gave the slightest nod.
"That's better." He sheathed his knife. "Now that we're comfortable."
"We need to discuss me reward, Viking. For the information."
"A kiss and a coin. Worthy payment for a thrall."
"I think not."
Such haughtiness delivered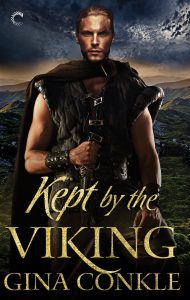 with an ear-teasing accent. Who is this woman? He pushed back the curtains with his free hand. Fire flickered from a hanging soapstone lamp, slanting light across a cloud of ebon hair and amber eyes. The thrall from last night. She'd stood at the end of Sothram's feast hall, her furtive stare tracing him from a gloomy corner.
"This isn't a negotiation, sweeting."
"It is if you want to save your life and the lives of your men."
Kept by the Viking by Gina Conkle