Have you thought about the female characters you love to read? Or the ladies of the silver screen you like to watch again and again?
Why do you love them so much?
Vikings have that effect on me, whether male or female characters. Sure, my inner history nerd acknowledges Vikings were at times brutal raiders. Yet, I also see some of history's strongest women and most fair-minded people. I keep going back to them whether I'm reading fiction or non-fiction.
If you read the sagas, you'll find sword wielding shield maidens. You'll find femme fatales and wily women.  You'll even find sweet-natured girls.
But shrinking violets? Damsel's in distress? Good luck.
Lately, I've come to suspect readers today want strong women. They want women who are feminine, kind-hearted, and intelligent…be they leaders or milk maids. Take a look at the audience reaction to Kathryn Winnick who plays Lagertha on History Channel's Vikings (posted at the end).
I was very surprised at what I heard.
Fan after fan got up and thanked Kathryn Winnick and Michael Hirst (the show's writer and creator) for giving them such a strong female character in Lagertha. I couldn't agree more.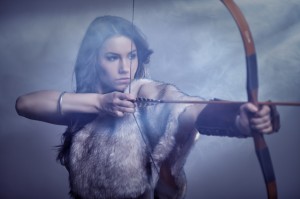 The funny thing? I don't tend to like reading or writing weapon wielding women. But, I do want kick-butt heroines who know when
to take charge and when to listen. I want a woman who gives a man his comeuppance if it's warranted. She stands toe to toe with him and also knows when to walk away.
If you think this sense of independence only applies to free born Viking women, read the tale of Melkorka of Iceland, a thrall (slave) with a mind of her own. Her life reads like fiction: big, bold, and full of sass. And then there were the women who helped settle Iceland. Many became independent landowners — something unheard of in other Dark Ages cultures.
Have you heard of Gudrid? She was a Viking woman a lot of historians claimed was pure saga fantasy…until archaeologists unearthed her longhouse and discovered the truth. As a young woman, she traveled from Iceland to North America with a boat full of men. A few lusted after the attractive Gudrid, but she held her own with the men and with the Skraelings (Viking name for the indigenous people they encountered).
Gudrid lived in North America for three years, gave birth while there, and then returned home to Iceland. Wanderlust must've bit
her, because records show Gudrid traveled far south to Rome…just to see the famed city.
These are women worth reading.
Do you have a favorite female lead? Why not share (book, television, or movie) and tell me why. There's a $10 Amazon or Barnes & Noble gift card giveaway for one random commenter (to be drawn September 15th). Be sure to leave your contact email.
If you're curious for more Viking romance, please stop by "Hummingbird Place" a BlogTalkRadio show on Monday, September 22 at 7:00 PM EST. We'll talk Viking romance plus there'll be giveaways.  Here's the link: "HummingbirdPlace" 
The "Vikings" at Comic-Con 2014
~Cheers to you, Reader! Gina