Please welcome guest author Virginia Heath for another History Thursday post on food. She'll parse out all things scone-ish (she's a Brit, so she knows what she's talking about). Of course, she writes historical romance. We'll get to her book, but first…a few words from Virginia Heath on scrumptious scones.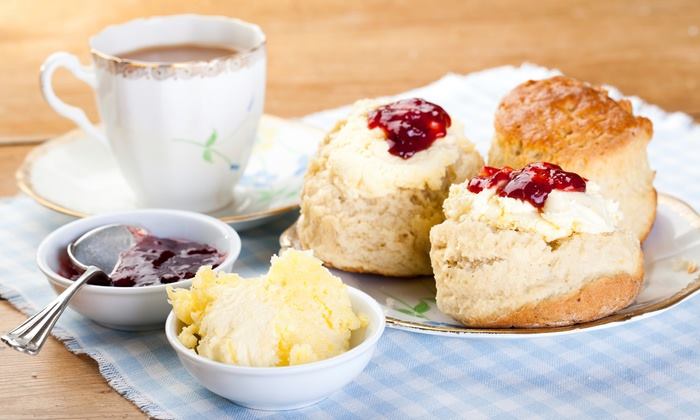 Morning all from a very grey London!
Let's talk scones… or scons as some people say (I don't).
Contrary to the way it's done in the States, the proper English scone is round. To make the humble scone into a triangle is an abomination 


It can be savoury but is usually sweet. The plain, sweet scone is known as the 'Devonshire' scone after the county that created it. However, I'm sure the residents of Cornwall next door might have something to say about that as there is great rivalry between Devon and Cornwall over the correct scone etiquette. For Devon and most of the UK, the jam goes before the cream. In Cornwall, the clotted cream goes first. This is probably because clotted cream comes from Cornwall and they want to celebrate it 
Here in Blighty, the oracle on all things baking is a lovely lady called Mary Berry. She is a goddess and her word is law. Therefore, the following recipe for scones is the best in the world, foolproof and is dead easy. 
Serve your finished scones with strawberry jam and good whipped cream in the absence of clotted (because who has the time to gently poach heavy cream for several hours in a bain marie?). Drink with English tea (preferably not that Liptons rubbish because that isn't tea!). Spray can cream, like triangular scones and Liptons tea, is an abomination. Please avoid 
Ingredients
450g (1 lb) self-raising flour
2 rounded teaspoons baking powder
75g (3 oz) butter, at room temperature
50g (2 oz) caster sugar
2 eggs
about 225 ml (8 fl oz) milk
Mary's words of wisdom: 'The secret of good scones is not to handle them too much before baking, and to make the mixture on the wet, sticky side. Either eat scones on the day of making or freeze once they have completely cooled.' 
Basically, if you handle them too much you get a dry scone 
INSTRUCTIONS
Preparation time: about 15 minutes
Cooking time: 10-15 minutes
Makes about 20 scones
Lightly grease two baking trays. Pre-heat the oven to 220°C/425°F/Gas 7.
Measure the flour and baking powder into a processor. Add the butter and process until a crumble, then add the sugar. Or make by hand by rubbing the butter into the flour using your fingertips until the mixture resembles fine breadcrumbs. Stir in the sugar.
Beat the eggs together until blended and make up to a generous 300ml (1/2 pint) with the milk, then put about 2 tablespoons of the egg/milk aside in a cup for glazing the scones later. Gradually add the egg/milk mixture to the dry ingredients until you have a soft dough. It is far better that the scone mixture is on the wet side, sticking to your fingers, as the scones will rise better.
Turn the dough onto a lightly floured surface and flatten it out with your hand, or use a rolling pin, to a thickness of 1-2 cm (1/2 – ¾ inch). Use a 5 cm (2 inch) fluted cutter to stamp out the dough by pushing the cutter straight down into the dough (as opposed to twisting the cutter) then lift it straight out. This ensures that the scones will rise evenly and keep their shape. Gently push the remaining dough together, knead very lightly then re-roll and cut more scones out as before. 
Arrange the scones on the prepared baking trays and brush the tops with the reserved beaten egg/milk mixture to glaze. Bake for about 10-15 minutes or until the scones are well risen and golden. Cool on a wire rack, covered with a clean tea towel to keep them moist. Serve as fresh as possible, cut in half and spread generously with strawberry jam and top with a good spoonful of thick cream.
See? Simple, quick and totally, Britishly delicious 
~ Virginia Heath
When Virginia Heath was a little girl it took her ages to fall asleep, so she made up stories in her head to help pass the time while she was staring at the ceiling. As she got older, the stories became more complicated, sometimes taking weeks to get to the happy ending. Then one day, she decided to embrace the insomnia and start writing them down. Fortunately, the lovely people at Harlequin took pity on her and decided to publish her romances, but it still takes her forever to fall asleep.
If you want to find out more check out virginiaheathromance.com
The Discerning Gentleman's Guide by Virginia Heath
"Choosing a wife is not a task that should be undertaken lightly." 
Bennett Montague, sixteenth Duke of Aveley, is seeking the perfect bride. He's narrowed his search to five worthy "Potentials"…until the arrival of his aunt's companion unravels his carefully laid plans.
Having fought for everything she has, Amelia Mansfield is incensed by Bennett's wife-selection methods. But as she's forced to spend time in his company, she begins to see another side to Bennett—and that man is infinitely more tantalizing and enticing…
Amazon     Barnes & Noble     Kobo     Harlequin
Here's the US cover.
Tell Virginia what your favorite scone is. Triangle? Round? Sweet? Or Savory?
A final tidbit I learned: Brits in northern England say scon (pronounced like gone) while those in the south say scone (like moan).