Earlier this week, I shared the fun of attending Romance Writers of America's national conference. This year I decided to do something different by getting up around sunrise and exploring the city on foot. I'm glad I did. 
I convinced my friend, Anne, who writes small town contemporary romance to explore downtown Denver with me. Early mornings were perfect: quiet, sunny, and full of interesting sites. Here are a few of them (with another giveaway at the end).
You're shocked that we ran into a cowboy statue on our morning walk, right? LOL!! Cowboy romance is all the rage. So, is fantasy romance and contemporary romantic comedy. In my conversations with agents and editors, historical romance is going steady—no great spikes or dips—except for westerns. Cowboys are going strong in traditional romance publishing.
Hearing that made me think of Harlequin and Sourcebooks. Both publishers are very big into giving readers cowboy romance, be it historical or contemporary. At a Harlequin Marketing Meet and Greet event, I asked an executive (a male Vice President of something) about the appeal of a cowboy. He smiled and sorta stammered through his non-answer. I think he was overwhelmed being in a room full of women!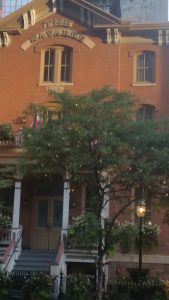 Here's where my walk got interesting. Among the modern buildings sat The Navarre (close to the cowboy statue pictured at the top). The Navarre is now an art museum, but in the old west it was a brothel. History tells us there used to be tunnels underneath the building which enabled politicians to sneak into the house of ill repute without being seen by the public. Men! Gotta love 'em.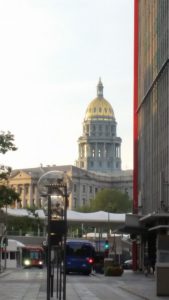 Colorado's capitol building was beautiful in the morning sun. See those two buses at the bottom? Denver offers a bus line through the city's downtown area. It was convenient, clean, and free. We had fun walking through the main streets. Many businesses had flower boxes lining their windows, and restaurants with outdoor dining featured small gardens. The city was really a nice, peaceful place. My author friends and I took advantage of Denver's sidewalk dining. When we got tired of walking, we'd hop on one of those buses.
I highly recommend visiting Denver in the summer. 
In honor of Denver, cowboys, and romance I'm giving away* a print copy of Carolyn Brown's The Cowboy's Mail Order Bride. 
*To get in the drawing, tell me in the comments below what is the appeal of a cowboy. Random winner will be drawn on Sunday, July 29th at noon ET from the comment section.
Happy Reading!
~Gina